Inline Heaters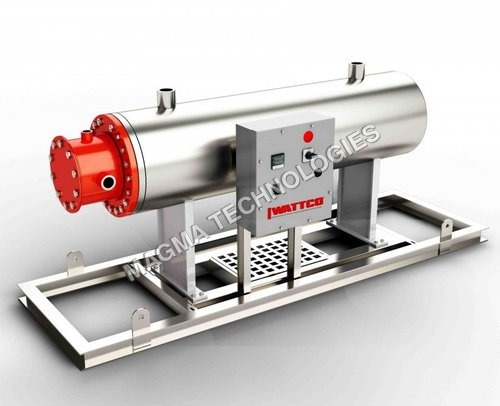 Inline Heaters
Product Description
We are one of the foremost manufacturers, exporters and suppliers of Inline Heaters designed from high-grade stainless steel, copper and titanium components. They are widely used to heat flowing fluids properly in the domain of petrochemical, chemical, pharmaceutical and other similar industries.

Key Points of Inline Heaters:

Compact size
Corrosion resistance
High performance
Robust design
Specifications of Inline Heaters:

With numerous specifications laid down by each patron, every equipment in precisely designed so as to meet their preferences in a promising manner.
Acknowledged for their high grade galvanized steel body, these machines weigh from 150lbs to around 1200lbs, and are available in various sizes ranging from 2-14inches.
Being extremely energy efficient, our devices consume only a mere 650 kW of power.
Clients can acquire 120, 240 and 480V, 575 and 660V, 1 & 3 Phases from us.
For General Purposes, we offer the NEMA!. The NEMA 4 comes with a Moisture Resistant Surface, and NEMA 7 has been successfully certified to be explosion resistant.
Utilizing a variety of components such as copper, steel, stainless sheath elements, the tubing structure of such items are available with a range of 0.430 inch dia and 0.475" Dia.
Having an option of harnessing your instruments with/without a thermostat by employing digital temperature controllers and thermocouples.
Our models are supplied with UL, CSA, ASME and other such Third Party Approvals, Listings and Certifications.
Applications of Inline Heaters:

These robust machines find their use in multiple chemical processing applications, which require modern day inline heaters in closed or open circuits.
With a requirement for performance oriented inline heaters, petrochemical companies use such devices judiciously for oil production.
When we talk about Mining Industries, our heaters are rigorously utilized for water treatment and pressurized applications.
Another major field where such goods are used is Food Companies, who harness their business which such goods for efficient sanitation purpose.
Employed for cleansing process in multiple industries.
Employing the most top notch heaters by Military and defense contractors various purposes.
Features of Inline Heaters:

The dimensions of flanges reach upto 14 inches in diameter.
Our rugged Titanium, Carbon Steel or Stainless vessels are harnessed with OSI flanges ranging upto 150# up to 2000#.
Seamed vessels with proper insulation acquirable.
Goods customized as per your business specifications.
As per your needs and preferences, we can provide you different materials and wattages with American or European sizes.
Using the finest array of terminal boxes, these vessels and stainless steel parts are protected from high temperature conditions.

Benefits of Inline Heaters:


Ability of small heat bundles to offer a greater degree of power.
An simple and effortless framework support.
As compared to other alternatives, these goods are more energy efficient.
Calibrated as per industrially approved piping and safety standards
Choice of Skid mounted assembly accessible.
Effortless installations.
Fantastic dielectric strength.
Heat dispersion is done equally.
In order to regulate temperature, we use high end Digital Control Panels along with Thermocouples which are equipped with a high limit protecting control system.
Long service life.
Low, insignificant heat loss of vessel.
These terminal enclosures are meant for general purpose, especially for NEMA 7, NEMA 4X NEMA 7, and unsafe or explosion proof areas.

Technical Details of Inline Heaters:


| | |
| --- | --- |
| ANSI FLANGE : | 2 INCH UP TO 42 INCH |
| ANSI Flange Rating : | 150 LBS, 300 LBS, 600, 1500LBS ANSI Non Standard Flanges also available |
| Elements : | Steel, Stainless Steel, Coppor, Titanium, Incoloy, Inconel |
| Controls : | Thermostatically controlled (0-255F), (55-550F) Digitally Controlled, Thermocouple, RTD |
| Terminal Box Housing : | NEMA 1 Standard Terminal Box, NEMA 4/4X Water Proof Terminal Box, NEMA 7 Terminal Box |
Trade Information
Cash in Advance (CID), Cheque, Cash Advance (CA)

500 Per Month
7 Days

Western Europe, Australia, North America, Eastern Europe, Middle East, Central America, South America, Asia, Africa