We are manufacturing avant-garde Finned Tubular Heaters, Industrial Heaters, Cartridge Heaters and Industrial Heating Elements, among other products. These are demanded in industries of textile, food processing, petrochemical etc.

About Us
Magma Technologies has been one of the trusted companies when it comes to manufacturing quality-driven industrial heating systems, components and equipment at the most-effective price. With in-depth and industry-rich experience, the company has been at the forefront in bringing about innovation in the market by leveraging latest technologies.
In the year 2003, Magma Technologies started producing a range of Finned Tubular Heaters, Industrial Heaters, Cartridge Heaters and similar products. Today, we are trusted as the elite manufacturer, exporter and supplier of aforementioned products along with Immersion Heaters, Space Heaters, Tubular Heaters and many others. These equipment are guaranteed for higher performance under all working conditions. The finned tubular heaters are ideal for heating gas, circulating air, Vacuum Drying Ovens, Electric Duct Heaters, air ducts and others. In India, we are a leading manufacturing company, committed only to heaters production in ultra-modern technology.

Leveraging on market innovation and our research approach, we have acquired specialization in designing and fabricating gas and fuel fired heating systems that boast of having an outstanding footprint in the end-markets. In fact, we have become a prestigious part of Small Scale Industries (SSI) by providing top class Finned Tubular Heaters, Industrial Heaters and other heaters. Our huge experience has made us well aware of all the aspects which can make our range avant-garde and best in this segment. We boast on our product knowledge and strongly comply to all the factors that can help us in benefiting the customers.

Industries We Cater To

For the customers who seek to avail best quality industrial heaters, we are the best choice for them. We believe in delivering the best tubular heaters and other industrial heaters at prices which are incomparable in the industry. Being a Manufacturer, we maintain the pace of developing our range, so that we deliver it according to customer's and application requirements. Our products are meeting the demands of following industries:

Food Processing
Textile
Plastic
Rubber
Nuclear
Atomic
Electrical
Chemical
Electroplating
Marine
Automobile
Paint
Nylon
Fertilizers
Oil refinery
Diamond industry
Corrugation
Packaging industry
Domestic Applications:

Apart from the industries that we serve, the domestic applications of our products include:

OTG
Coffee maker
Hot plates
Irons
Dryers
Washing Machine
Kettle Elements
Dish-washers
Sandwich-Toasters
Steam-generators
Sauna
Waffles makers
Room-Heaters
Shrink-wrapping
Cooking coils etc.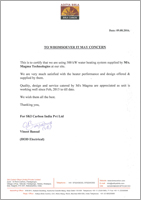 Read More