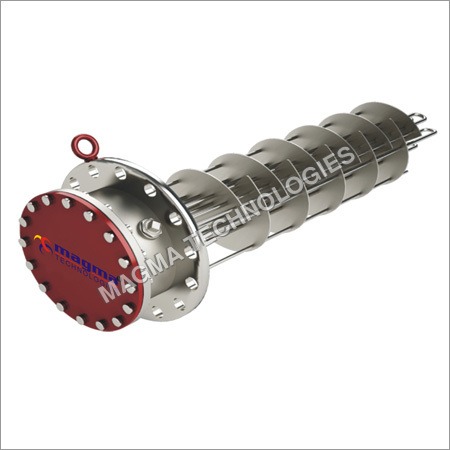 Industrial Heating Elements
Product Code : 18
Product Description
What are Industrial Heating Elements and their uses?
We manufacture
Industrial Heating Elements
that are a standard for industrial heaters installed in petroleum and chemical industry & also in applications that are water-based. In Magma Flanged Immersion Heater, various alloys can be used as Industrial Heating Elements for protection against corrosion. For corrosive solutions, SS flanged heating elements can be used. For sheath, steel, copper, exotic alloys and other material can be used. A standard heater comprises various Industrial Heating Elements such as:
One ANSI rated flange that has a number of hairpin elements
Bugle tubular elements which run across the flange's face
Thermowell along with various elements
High limit sensor for safeguarding the liquids from overheating. It also safeguards the flanged heater.
Steel flanges for oils, waxes, low-flow gas heating etc such as detergent solution, soap and others
Key Features :
Easy to install
Energy efficient
Excellent finish
Longer service life
Low maintenance
Noiseless operation
Robust construction
Sturdy design
Superior performance
Zero toxic emission
What are Industrial Heating Elements and their uses?
We manufacture
Industrial Heating Elements
that are a standard for industrial heaters installed in petroleum and chemical industry & also in applications that are water-based. In Magma Flanged Immersion Heater, various alloys can be used as Industrial Heating Elements for protection against corrosion. For corrosive solutions, SS flanged heating elements can be used. For sheath, steel, copper, exotic alloys and other material can be used. A standard heater comprises various Industrial Heating Elements such as:
One ANSI rated flange that has a number of hairpin elements
Bugle tubular elements which run across the flange's face
Thermowell along with various elements
High limit sensor for safeguarding the liquids from overheating. It also safeguards the flanged heater.
Steel flanges for oils, waxes, low-flow gas heating etc such as detergent solution, soap and others
Key Features :
Easy to install
Energy efficient
Excellent finish
Longer service life
Low maintenance
Noiseless operation
Robust construction
Sturdy design
Superior performance
Zero toxic emission